Do you dread opening your heating and cooling
bills each month?
Let Tip Top Home Solutions ease your mind and pocket
with Radiant Barrier insulation!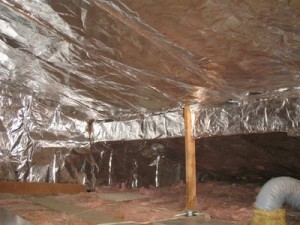 As living costs continue to rise, and with them the costs of heating and cooling, better home efficiency has become a prime concern of most homeowners.  Reflective radiant barrier is a new type of home insulation that has gained popularity for many home and industrial insulating applications.  Nashville radiant barrier insulation is a great option for homeowners looking to increase the performance of pre-installed insulating material – without having to remove and replace it.  For those especially looking for greener ways to run their households, reflective radiant barrier is a definite option to consider.
Tip Top Home Solutions is ready to assess your insulation needs and demonstrate how radiant barrier will increase home efficiency, decrease cooling and heating costs, and save homeowners money
How does our Radiant Barrier work better than others?
The science behind our Temp Shield Double Bubble radiant barrier insulation works by reflecting heat waves – whether it is keeping cool air in and hot air out, or vice versa.  Typical fiberglass insulation only attemptsto slow the transfer of heat passing through it. BUT heat continues to move toward cooler areas inside or outside the home.  For example, as a roof is warmed by the summer sun, the heat is transferred through the insulation to the cooler air in the attic and eventually heating the rest of the home.  Fiberglass insulation only slows this process down.  Radiant barrier – which is installed over the rafters and fiberglass insulation — actually reflects this heat energy either back toward the roof in the summer time or back into the house during the winter.  By installing radiant barrier with the existing insulation, heat transfer (either in or out) can be reduced as much as 40 percent – quite considerable when speaking in terms of paying for all that lost heat and air conditioning!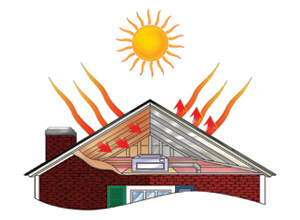 Radiant barrier, when installed correctly (either over existing insulation or alone) is non-conductive, non-corrosive, and non-toxic, making it a breakthrough in home efficiency!  It installs fairly quickly, is maintenance free, and will pay for itself in just a few seasons – making it a definite recommendation for climates where the summer or winter seasons can get extreme.  Nashville radiant barrier is a top choice of customers of Tip Top Home Solutions!
Click here to fill out our online form , or call us today to schedule an in-home energy assessment.  If you want to save more and live more comfortably in your Nashville are home, radiant barrier insulation is the solution!