Make your own home feel like a vacation!
Tip Top Home Solutions is ready to create
your "get away" with a
Nashville sunroom addition!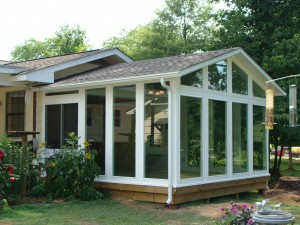 Homeowners are spending more of their leisure time at home than ever before.  Economic worries, as well as travel safety concerns, have lots of people thinking twice before renting that cabana in the sun.  Many people are also facing the unfortunate fact that their houses and real estate are decreasing in value. A new Nashville sunroom can change all of that, bringing both relaxation and value into any home.
Benefits of Adding a Sunroom
"Home away from home" – A sunroom is a means to escape from the daily grind EVERY DAY, not just on an occasional planned vacation
Increased property value and salability – Given the choice of two similar homes in similar conditions, a house with a sunroom will generally seem more appealing to a prospective buyer, even if the sales price is a bit higher.
Great health benefits – Sunlight is essential for good physical health and is a proven anti-depressant!
 The stress-reduction and convenience of on-demand relaxation created by your new Nashville sunroom could make your new sunroom the favorite room of the house!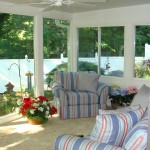 Sunroom additions can be built in shapes, sizes, and costs to fit any house and any budget.  They can be constructed to match any home exterior, built as permanent, all-weather, glass-enclosed additions or warmer weather screen rooms, and added onto any room of the house.  The available options are endless, giving any residence a custom touch that will be useful, add curb appeal, and make it stand out from those surrounding it.
The Tip Top Sunroom System partners with Living Spaces to install top-of-the-line home additions.  The basis for a high performance, fully usable year round sunroom in the Nashville market is the glass system. We use the same product we would install in your home if we were replacing the windows in your home using the Verde by Sunrise Windows.  With so many options to create the perfect environment for relaxing yourself or entertaining family and friends, there is no wrong reason to add on a sunroom to your home!  You will wonder why you waited so long!